Solar Assisted Electric Pool Heating
Our European manufactured MundoClima H9 series pool heater will easily cater for your various sized residential pools, here in Spain.
This system is a variable output heater, which has 3 modes. Boost, smart and silent, which work intelligently, to optimize your perfect pool temp requirements.
The Coeffiecient Of Performance ( COP ) is without doubt the best in it's class, averaging from a minimum of 6.36 to 14.55:1
This simply explained is a performance rating that tells you how effective a heat pump/airconditioner is at transferring heat, versus the amount of electrical power it consumes.
For example, the MundoClima H9 (up to 80 cubic meters, 8m x 4m/9m x 5m average depth pool) gives 21kw of heating output, for a mere 1.45kw of power consumption.
All these systems run alongside you existing pool filtration pump (average consumption 700/900w per hour)
Learn More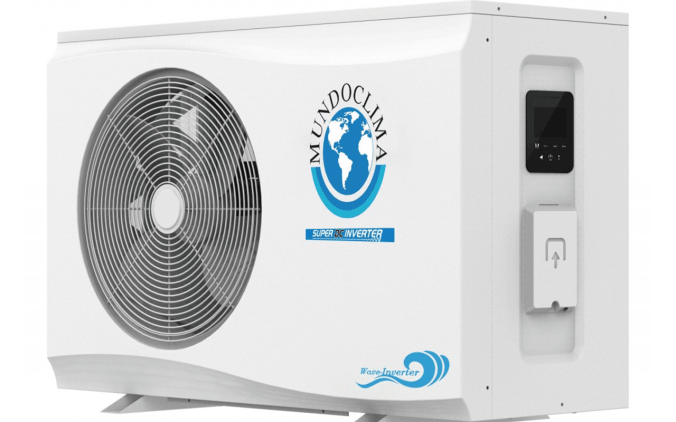 To cater for this, we have designed individual Photovoltaic systems for each of the MundoClima H9's we install. These systems will provide free green energy from Sun up to Sun down and are configured to meet your pool heating/filter system power consumption requirements.
When your pool and/or filter system is not in use, the power generated by your PV system will automatically feed your property, wherever you may wish to utilise it. We guarantee, not only will you have up to 28 degrees winter pool temps, but our combined systems will also reduce your existing electricity bill.
Electrical pool heating is well known for high monthly running bills, but when you combine the MundoClima H9 with the best COP in it´s class, with a maintenance free Photovoltaic Solar System, you will not go wrong.
This system also comes with the lowest decibel (29 decibels at 10m's) in it's class.
On the rare occasions that a client requires there pool to be cooled down, the MundoClima H9 system can do that for you as well, via it´s air inversion capabilities. It can take an outdoor pool to between 15c & 22c based on an outside air temperature of 35c.
Our latest low consumption heaters are now fully WiFi compatible, so you can have full control of the system, no matter where you are.
Fully installed with PN16 high pressure pipework as per manufacturers recommendation.
Electric Air Inverted Pool Heating Pricing
Please contact us directly for products and services you may not see below - All strictly subject to survey.
These systems will provide an average Winter water temperature of 28 degrees.